How does my company get wholesale pricing?
---
We offer wholesale discounts at different levels. The quantity that you purchase and your type of business determines your discount.
• Setting up your account is free and fast so make sure you start this process first.
• Due to the various product lines we carry we make, there is no standard discount, all discounts are structured per individual product. Call us +371 64170073 to setup your account Please also have your contact/billing information, e-mail and phone number ready. You can email to us at ekju@ekju.lv

---
How do I become a dealer / distributor in my area?
---
To best serve you and the customer, we recommend setting up a Wholesale Account with us as mentioned above for free. You will receive a corresponding discount on your first purchase, and others that follow. If you wish to be on a deeper discount level, you may choose to become a Dealer. These are businesses that order EKJU products of their choice in higher quantities, all at once. To get on our deepest discount level, and to have the opportunity to become an official Dealer with a territory, you must start by stocking EKJU products. Since we have customers the Europe, this is a great way to capture your local market by providing quick and easy access to our products that regularly sell themselves. We will then be happy to offer you full dealer privileges, and maximum discounts when you stock or order our products in quantity.
---
---
SUMMER SALON SERIES (2020)
JULY 2, 2020
---
LULLY Gavotte & Musette TCHAIKOVSKY Nocturne LAVEN Russian Romp SHOSTAKOVITCH Prelude MARCELLO Adagio from Oboe Concerto in C minor LAVEN A Barnraising LAVEN Prelude for Emily LAVRN Snake River Stomp MUSICIANS Jodi Hagen, violin Colin Davis, violin Jean Haig, viola Andrew Laven, cello Steve Laven, cello
---
JULY 16, 2020
---
PRICE String Quartet in G Major MARTINU Madrigals JESSIE MONGTOMERY Strum DANIEL BERNARD ROMAIN Hip hop Etudes JAMES LEE Abraham's Sons (In Memoriam: Trayvon Martin) MUSICIANS Liana Zaretsky, violin Julia Cash, violin Dan Doña, viola Leo Eguchi, cello COMPOSER LINKS Jessie Mongtomery www.jessiemontgomery.com Daniel Romain www.danielroumain.com James Lee www.jameslee3music.com
---
JULY 30, 2020
---
BEETHOVEN Romance No. 2 in F Major, op. 50 Hymn arrangements for violin and piano Ragtime duets for violin Scottish fiddle music MUSICIANS Barbara Englesberg, violin Jodi Hagen, violin Anne Hooper, violin Jamie Hillman, piano YouTube link: https://youtu.be/dPRTbNmx_ZU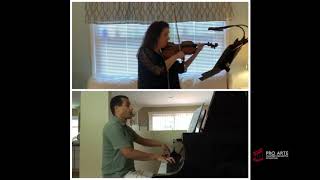 ---
AUGUST 13, 2020
---
BEETHOVEN Eyeglasses Duo BACH Chaconne from Partita No. 2 in D minor, BWV 1004 Grażyna BACEWICZ Polish Capriccio BEETHOVEN String Quartet No. 4 in C minor, op. 18 MUSICIANS Colin Davis, violin Lisa Goddard, violin Anne Black, viola Steve Laven, cello Learn more about Grażyna Bacewicz.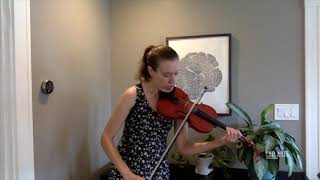 ---
AUGUST 27, 2020
---
BRAHMS Clarinet Quintet in B minor, Op. 115 MOZART Clarinet Quintet, K. 581 MUSICIANS Ian Greitzer, clarinet Julia Cash, violin Lisa Goddard, violin Donna Jerome, viola Jolene Kessler, cello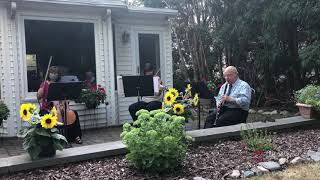 ---
SEPTEMBER 10, 2020
---
MOZART String Duo No. 2 in B-flat Major, K. 424 MILHAUD Duo for Two Violins, op. 258 MUSICIANS Diane Pettipaw, violin Anne Black, viola
---
---
SEPTEMBER 24, 2020
---
Florence PRICE, String Quartet in G Major BEETHOVEN String Quartet in E-flat Major, op. 127 MUSICIANS Liana Zaretsky, violin Julia Cash, violin Emily Rome, viola Leo Eguchi, cello
---
OCTOBER 8, 2020
---
BEETHOVEN String Quartet in F minor, op. 95 "Quartetto Serioso" William Grant STILL Lyric Quartette James LEE Abraham's Sons (In Memoriam: Trayvon Martin) Jessie MONTGOMERY Rhapsody No. 1 MUSICIANS Lisa Goddard, violin Colin Davis, violin Anne Black, viola Steve Laven, cello
---
OCTOBER 22, 2020
---
PROGRAM BARBER Summer Music, Op. 31 FINE Partita Valerie COLEMAN Umoja STILL Summerland GERSHWIN An American in Paris MUSICIANS Ann Bobo, flute Nancy Dimock, oboe Ian Greitzer, clarinet Ron Haroutunian, bassoon Robert Marlatt, horn
---
NOVEMBER 5, 2020
---
PROGRAM: BEETHOVEN: 7 Variations on Bei Männern, welche Liebe fühlen from Mozart's Die Zauberflöte Wo046 BEETHOVEN: Sonata for Cello and Piano No. 2 in G Minor, Op. 5 No. 2 BEETHOVEN: Sonata for Cello and Piano No. 4 in C Major, Op. 102 No. 1 MUSICIANS: Aron Zelkowicz, cello Max Levinson, piano
---
NOVEMBER 19, 2020
---
PROGRAM BACH Brandenburg Concerto No. 3 in G Major, BWV 1048 WALKER Lyric for Strings DVORAK String Quintet No. 2 in G Major, op. 77
---
DECEMBER 3, 2020
---
PROGRAM COMPOSER Piece MUSICIANS Dana Russian, trumpet Joseph Foley, trumpet Robert Marlatt, horn Hans Bohn, trombone Kenneth Amis, tuba
---
---
SEASON 43 (FALL SALON SERIES)